Restructuring Primary Health Care Markets in New Zealand: from Welfare Benefits to Insurance Markets
Australia and New Zealand Health Policy
2005
2:20
Received: 07 May 2005
Accepted: 06 September 2005
Published: 06 September 2005
Abstract
Background
New Zealand's Primary Health Care Strategy (NZPHCS) was introduced in 2002. Its features are substantial increases in government funding delivered as capitation payments, and newly-created service-purchasing agencies. The objectives are to reduce health disparities and to improve health outcomes.
Analysis
The NZPHCS changes New Zealand's publicly-funded primary health care payments from targeted welfare benefits to universal, risk-rated insurance premium subsidies. Patient contributions change from fee-for-service top-ups to insurance premium top-ups, and are collected by service providers who, depending upon their contracts with purchasers, may also be either insurance agents or risk-bearing insurance companies. The change invokes the tensions associated with allocating risk-bearing amongst providers, patients and insurance companies that accompany all insurance-based funding instruments. These include increases in existing incentives for over-consumption and new incentives for insurers to limit their exposure to variations in patient health states by engaging in active patient pool selection.
The New Zealand scheme is complex, but closely resembles United States insurance-based, risk-rated managed care schemes. The key difference is that unlike classic managed care models, where provider remuneration is determined by the insurer, the historic right for general practitioners to autonomously set patient charges alters the fiscal incentives normally available to managed care organisations. Consequently, the insurance role is being devolved to individual service providers with very small patient pools, who must recoup the premium top-ups from insured individuals. Premium top-ups are being collected only from those individuals consuming care, in proportion to the number of times care is sought. Co-payments thus constitute perfectly risk-rated premium levies set by inefficiently small insurers, raising questions about the efficiency and equity of a 'universal' insurance system pooling total population demands and costs. The efficacy of using financial incentives to constrain costs and encourage innovation when providers retain the right to arbitrarily recoup costs directly from patients, is also questioned.
Results
Initial evidence suggests that total costs are higher than initially expected, and prices to some patients have risen substantially under the NZPHCS. Limited competition and NZPHCS governance requirements mean current institutional arrangements are unlikely to facilitate efficiency improvements. System design changes therefore appear indicated.
Keywords
Service ProviderPrimary Health CareInsurance PremiumManage Care OrganisationContractual Relationship
Background
New Zealand's state-funded primary health care system has undergone fundamental structural and financial change following the implementation of the Primary Health Care Strategy (NZPHCS), beginning in 2002 [1]. The principal stated objectives of the NZPHCS are to reduce health disparities, to improve health outcomes and to increase the share of government funding in primary care. In pursuit of these objectives, the NZPHCS utilises two financial instruments and a structural instrument.
The financial instruments are an increase in the quantum of taxpayer funds applied to primary health care (a 43% increase in the first three years [
2
], with $1.7 billion additional funds being applied over 6 years [
3
]), and universal capitation funding for all enrolled citizens, irrespective of individual consumption of primary health care services. Whilst all citizens are eligible to receive capitation funding, the rate paid varies depending upon patient characteristics such as age, gender, ethnicity and financial deprivation, and the characteristics of the entity to which the capitation subsidies are paid (see Table
1
).
Table 1
PHO Types and Annual Capitation Subsidies, 2004–5 [67]
Capitaiton Subsidies

GMS/Nurse

Services to Improve Access

PHO Type

Interim

Access

All

HUHC

HUHC

Maori/Pacific

Non Maori/Pacific

Age Group

Gender

CSC

N

Y

N

Y

1 thru 4

5

1 thru 4

5

00–04

F

Y

$308.12

$471.96

$315.73

$471.96

$63.15

$126.29

$0.00

$63.15

N

$308.12

$471.96

M

Y

$327.88

$471.96

$332.42

$471.96

$66.48

$132.97

$0.00

$66.48

N

$327.88

$471.96

05–14

F

Y

$79.33

$302.61

$99.94

$302.61

$19.99

$39.98

$0.00

$19.99

N

$79.33

$302.61

M

Y

$75.18

$302.61

$93.54

$302.61

$18.71

$37.42

$0.00

$18.71

N

$75.18

$302.61

15–24

F

Y

$78.90

$291.50

$92.22

$291.50

$18.44

$36.89

$0.00

$18.44

N

$36.09

$291.50

M

Y

$42.38

$291.50

$50.75

$291.50

$10.15

$20.30

$0.00

$10.15

N

$20.79

$291.50

25–44

F

Y

$72.61

$291.50

$81.04

$291.50

$16.21

$32.41

$0.00

$16.21

N

$7.32

$291.50

M

Y

$43.16

$291.50

$52.38

$291.50

$10.48

$20.95

$0.00

$10.48

N

$5.91

$291.50

45–64

F

Y

$88.74

$319.27

$110.99

$319.27

$22.20

$44.40

$0.00

$22.20

N

$12.22

$319.27

M

Y

$67.96

$319.27

$82.90

$319.27

$16.58

$33.16

$0.00

$16.58

N

$9.57

$319.27

65+

F

Y

$191.27

$342.40

$191.27

$342.40

$38.25

$76.51

$0.00

$38.25

N

$191.27

$342.40

M

Y

$164.95

$342.40

$164.95

$342.40

$32.99

$65.98

$0.00

$32.99

N

$164.95

$342.40
The structural instrument is community-based nonprofit Primary Health Organisations (PHOs), created to register eligible individuals, receive associated capitation monies, co-ordinate delivery of care to registered individuals and manage the associated service delivery contracts. PHOs are also charged with responding to the health needs and preferences of their communities and developing innovative ways of providing services that people can afford [4]. There are no restrictions placed upon the nature (either for-profit or nonprofit) of the entities with whom the PHOs can enter into contracts, or the nature of the financial or operational risk-sharing that these contracts may entail. The only requirement is that PHOs be nonprofit entities openly accountable to the public for their decision-making, with contracted service providers and communities being represented in their governance and decision-making [5]. As District Health Boards (DHBs) oversee the contracts with PHOs, the NZPHCS requires that PHOs are formed within DHB boundaries.
The relationships between the government, its primary policy-making agency the Ministry of Health, the 21 geographically-determined government service purchasing and delivery agencies the DHBs, the PHOs, service providers and patients under the NZPHCS is illustrated in Figure
1
.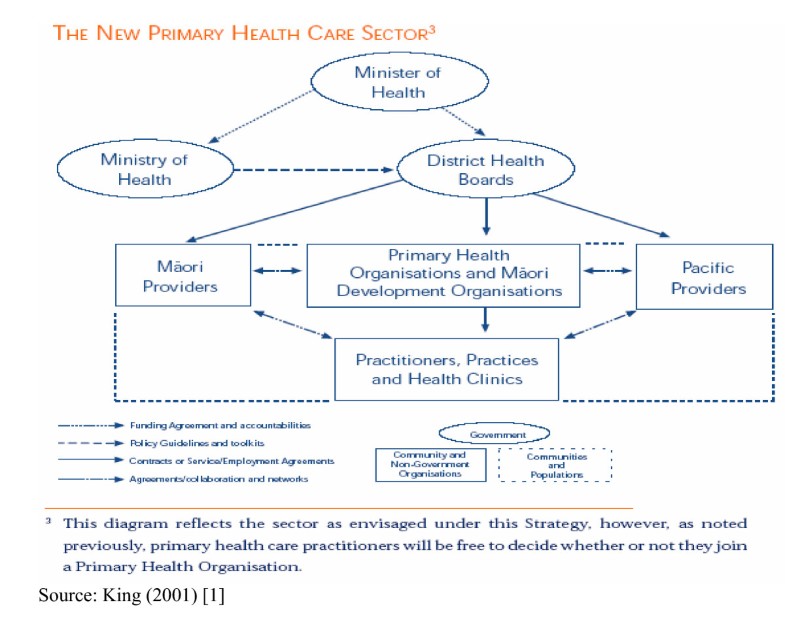 This paper examines the NZPHCS by analysing the changes in the contractual relationships and institutions relative to the pre-NZPHCS contracts and institutions. Specifically, it examines the intertwined implications of changing the principal government-funding instrument from a fee-for-service payment to a capitation payment, and the substitution of PHOs for service providers as the 'other party' with taxpayers, patients and the government in the social contract for overseeing the purchase and delivery of subsidised health care.
Analysis of Contractual Changes
The change in the subsidy from a targeted welfare benefit upon the consumption of services to a universal subsidy independent of consumption alters the nature of the residual risk-bearing for variations in individual patient consumption of health services (that is, variations in individuals' underlying health states). Pre-NZPHCS, the government underwrote the risks of demand variation for a small number of subsidised individuals whilst the majority of individuals self-insured. Risk-sharing was required only for the subsidised proportion of the population. Under the NZPHCS, as over ninety percent of the population receives subsidies, the risks and costs associated with variations in the health states of the nearly the entire population are shared. In the first instance, PHOs are required to underwrite these risks, but can subcontract these risks onto service providers via service provision contracts. Via their ability to levy patient charges in addition to revenues received from PHOs, service providers may subcontract these risks further onto those who consume primary health care. Whilst the motivation for changes in locus of risk-bearing is to alter the behaviour of sector participants (principally service providers), the contracts that are emerging under the NZPHCS reveal that a reallocation of some of these risks is occurring in ways that are likely to lead to higher costs in total, an inequitable allocation of these additional costs amongst patients, and less efficient outcomes relative to the pre-NZPHCS contracts. The evolution of the entities engaging in contracting and the less-efficient contracts that they are entering into, appears to result from the acceptance under the NZPHCS that the pre-NZPHCS contractual arrangement allowing service providers to levy patient charges directly will continue under the new system. Whilst the strategy anticipates that structures and contracts will evolve over time in response to competitive pressures [6], as long as the practitioner right to levy patient charges independent of contractual constraints applied by the PHOs prevails, service providers continue to predominate in the governance of PHOs, and competitive pressures upon PHO-service provider co-operatives remains weak, it is likely that the current higher-cost arrangements will become entrenched.
Discussion
The evidence to date suggests that despite the intention of the NZPHCS to change the identity of the 'other party' to the 'social contract' by establishing PHOs as new contracting entities, existing service providers, and in particular, general practitioners, have utilised the NZPHCS structures to replicate what appears to be similar relationships and responsibilities to those prevailing pre-NZPHCS. If general practitioners can dominate PHO decision-making, then under the guise of PHO governors they can continue to act as the de facto 'other party' to the social contract, as detailed in Figure 2. But whilst the NZPHCS structures may enable them to take these roles and in doing so preserve the outward form of previous relationships, the change in the funding instrument from targeted fee-for-service welfare benefits to universal insurance premium subsidies fundamentally alters the nature of the contracts which these relationships must fulfil. If the relationships prevail under the assumptions of the pre-NZPHCS funding contracts, but are required to serve the objectives intended under the NZPHCS arrangements, the potential exists for significant divergence between the intentions of the strategy and its outcomes. Intended outcomes may not be achievable, or if they are, it may be at substantially greater cost than if the NZPHCS relationships and contracts were built afresh. The balance of the paper discusses the key changes to contracts and relationships arising from the creation of a universal insurance instrument, and analyses the ways in which the relationships that have emerged under the NZPHCS institutions based upon pre-existing relationships are likely to affect the ability to deliver the intended objectives efficiently.
Conclusion
The preceding analysis indicates that the arrangements that have emerged under the NZPHCS, whilst in principle a managed care insurance system, are substantially less than optimal in respect of the requirements for a fully-functioning, efficient managed care insurance model. It appears that the use of institutions and relationships that prevailed under the pre-NZPHCS system in an 'evolutionary' move towards what appears to be a fully-fledged managed care model are likely to be counter-productive to the equity objectives of the strategy, substantially more costly than either the pre-NZPHCS system or the optimal managed care model, and as a consequence of the limited competition that exists, unlikely to respond to the normal competitive pressures to evolve into a more cost-efficient model. Thus, rather than the institutions and contracts being a 'first step' in an evolving strategy, the current higher-cost institutions and contracts are likely to become entrenched, to the long-term detriment of both taxpayers and patients.
Two instruments appear to be critical in the inability of the NZPHCS to achieve its full range of managed care objectives. The first is the presumption that general practitioners would retain their individual right to set patient co-payments independent of PHO contracts. This presumption has left PHOs with no meaningful ability to practice financial risk management. Whilst there is no policy statement about the retention of the right to charge, the unstated assumption that it exists has restricted the use of fiscal strategies associated with traditional managed care models. However, even if no such assumption existed, the second instrument, the requirement that service providers be part of PHO governance, means that providers have been granted sufficient power to ensure that the contracts under the NZPHCS do not leave them any worse off than pre-NZPHCS. In their capacity as PHO governors, general practitioners would be unlikely to be party to designing contracts that limit the professional autonomy that has been their non-negotiable bottom line in the development of New Zealand primary health care policy since 1938. As successive governments have been either unable or unwilling to restrain general practitioner charging autonomy using legislative powers, it is unlikely that PHOs, most of which are operating as general practitioner supplier-owned co-operatives, would be able to achieve such restraints using only mutually agreed contractual mechanisms.
Given that the outcomes of the NZPHCS are largely predictable from an analysis of risk-bearing in health insurance markets and the New Zealand history and institutions, the advisability of instituting a full, insurance-based managed care model with the associated requirements on the insurance companies to manage costs in a health care market that effectively denies to these managed care insurance organisations half of the tools normally available to such organisations to manage their costs must be questioned. The higher costs and inequitable distribution can be observed even at this early stage and will become more substantial over the next four years as premium subsidies increase. Indeed, the full extent of the higher costs at an individual level are likely being masked in the early stages by the sheer size of the additional government funding injected into the sector. As unrestricted practitioner charging negates the effects of patient demand pooling that normally accompany insurance schemes, any attempt to set up a managed care system based upon capitation payments of either the insurer or the service providers appears to be fundamentally flawed. This is not to say that practice-based strategies associated with PHO management and services to improve access cannot be legitimately and effectively funded on a capitation basis and provide measurable benefits. Indeed, benefits may have already accrued from these strategies. Rather it is a commentary on the wisdom of using capitation payments to fund the service delivery components of a universal insurance scheme in the presence of practitioner price-setting autonomy. Under current arrangements, the practice-based strategies would have to be extremely effective to outweigh the substantial additional costs of the imperfect insurance instruments that attend the NZPHCS in order to deliver a system that is of net greater benefit or offers better value-for-money than its predecessor.
In principle, leaving aside the power and professional autonomy of medical practitioners, the structures and intended contracts in the NZPHCS offered a potentially viable model of competing insurers and competing service providers that had the potential to deliver an efficient and effective insurance-based primary health care system for New Zealand that was capable of real innovation in both contracting and service delivery. However, to do so would have required a truly competitive environment, both in respect of insurance and service delivery markets, with fully transferable insurance premiums independent of insurer-service delivery contracts, and where insurers were governed, managed and operated as specialist insurance companies [65]. Such competition in the market for purchasers of services, where patients could freely exercise their insurance custom, would lead to genuine competition in the markets for both insurance customers and service provision contracts, where it would be harder for provider co-operatives to unilaterally determine the terms and conditions under which they would enter into contracts with insurers. This would have led to vibrant competition not just for contracts, but also in the models of insurance and care delivery that could move beyond the managed care model under which the system was established to alternative arrangements. If such a system allowed patient co-payments determined by the insurer, it would resemble the United States managed care model, but with the potential to evolve if models other than managed care proved more efficient. Such innovation is occurring in the United States as managed care proves less desirable for some patients and their insurers [66]. If patient co-payments were not allowed, then the New Zealand system it would resemble England's NHS. However, this model would require full funding from government sources.
In its present state however, the NZPHCS resembles neither of these models. It allows for all the additional costs of an insurance-based system, but none of the equity benefits of a fully state-funded system, and none of the fiscal benefits of a managed care system that constrains some of the excesses of insurance-based systems. Whilst there may be gains from the practice-based managed care strategies currently undertaken by PHOs, the costs of these gains will not necessarily be able to compensate for the substantial extra costs of the system as it is currently operating. If the costs and inequities of the NZPHCS escalate as predicted, any gains may be quickly eroded. Unless the deficiencies of the current insurance-based system are addressed soon, the very substantial proportion of the additional government funding committed to primary health care will likely amount to an ill-judged, overly-costly investment.
Declarations
Acknowledgements
The author acknowledges the helpful comments provided by Mark Berry and Lewis Evans, and the support of Glenn Boyle and the New Zealand Institute for the Study of Competition and Regulation, in the preparation of this article.
Authors' Affiliations
(1)
New Zealand Institute for the Study of Competition and Regulation; and Victoria Management School, Victoria University of Wellington, Wellington, New Zealand
Copyright
© Howell; licensee BioMed Central Ltd. 2005
This article is published under license to BioMed Central Ltd. This is an Open Access article distributed under the terms of the Creative Commons Attribution License (http://creativecommons.org/licenses/by/2.0), which permits unrestricted use, distribution, and reproduction in any medium, provided the original work is properly cited.